As opposed to course participants, managers/administrators have at their disposal a extensive display of course detail.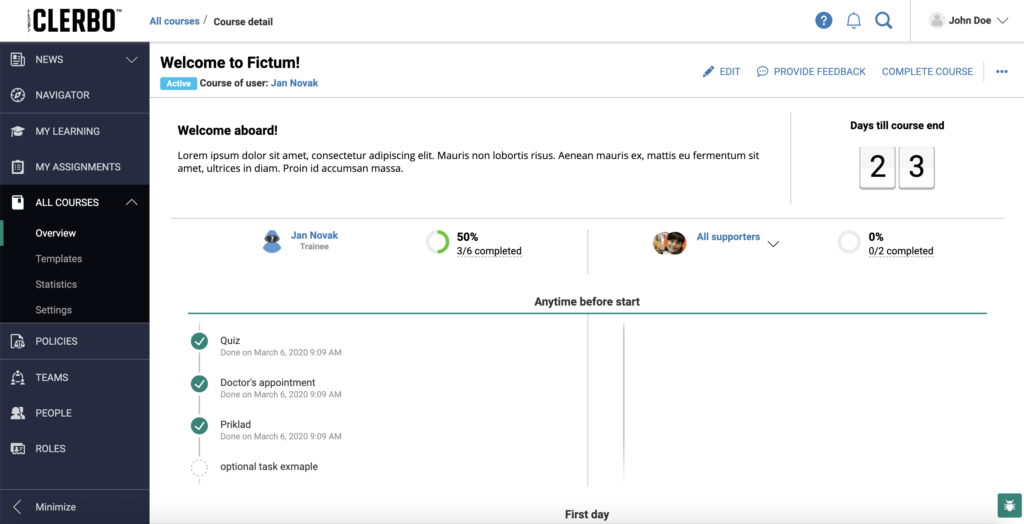 On this page you will find basic information on the course and its content:
Course name.
Course status and its allocation.
Welcome (introduction).
Time indication with information on how many days remain to the completion or start of the course.
Timeline with milestone introduction and individual assignments. Milestones represent the period of time within which assignments are to be completed.
Course progress by the user and other aides.
Assignment display
Assignments can be displayed on two time axes. The course participant's assignments are displayed on the left hand axis while all the aides' assignments can be found on the right hand axis (these individuals have at least one assignment on the course but are not primary participants).
By clicking on the name of the assignment on the time axis, it is possible to display more detailed information. The administrator has the right to alter the status of any assignment or delegate it to another individual.
Course actions
If you are viewing the course as an administrator or as the superior of a course participant, you can carry out the following actions with the course:
Provide feedback on the participant or course progress.
Alter the status (complete or reopen an already completed course).
Delete a course – if, for example, the answers in the questionnaire are not linked to the course, they can be deleted.