Templates are available only to managers and users with "Course administrator" rights and above.
By clicking on the template name in the template list, its detail is displayed: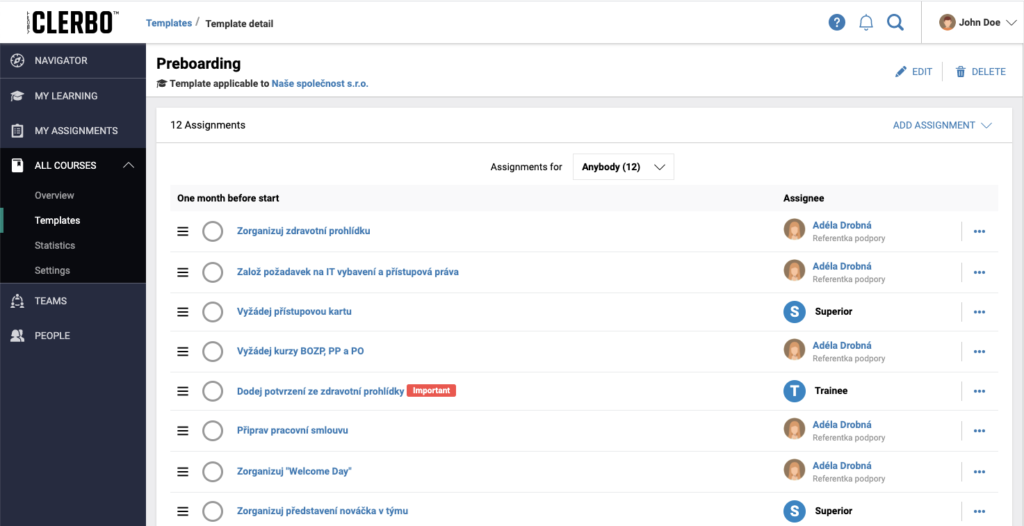 The page contains the following information:
The name of the template with information on how many teams the template is valid for. 
A list of assignments with information on their number and distribution according to temporal milestones

The name of the assignment, which is also a link for displaying the assignment detail.
Information on the assignment priority, showing whether the assignment is Important / Standard / Voluntary (if priority is set as Standard – this information is not shown).
Assigned – to whom the assignment will be allocated following course creation.
A menu with actions, which can be executed with the individual assignments.
Assignments can be filtered according to their allocation.

A template description with additional information on, for example, the objective of the training.
Template details:

At whom this template is aimed.
Information on the author of the template, the date of its creation and the most recent edit.
Template amendment
To amend or delete a template, please use the appropriate action in the top right hand corner.
Adding an assignment
You can create a completely new assignment in the template by clicking on the actions Add assignment or copy assignment from an already existing template. Adding a new assignment is described in the following guide.
Newly added assignments or amended assignments in a template are not automatically duplicated into already existing courses. Changes are not displayed until in each further training course that is created from that template.
Was this article helpful?
Dejte nám vědět, jestli Vám tento článek pomohl. Na základě vaší zpětné vazby jej můžeme dále vylepšovat.