Here, you can find out what's new in our latest release. Enjoy!
6/21/2020 (v.1.2.12)
More opportunities to collect information and feedback
We added new types of questions (fields) that allows you to collect information and feedback using the questionnaires. A new hire can enter select options from a checklist, dropdown, or answer open questions.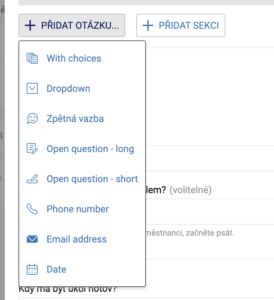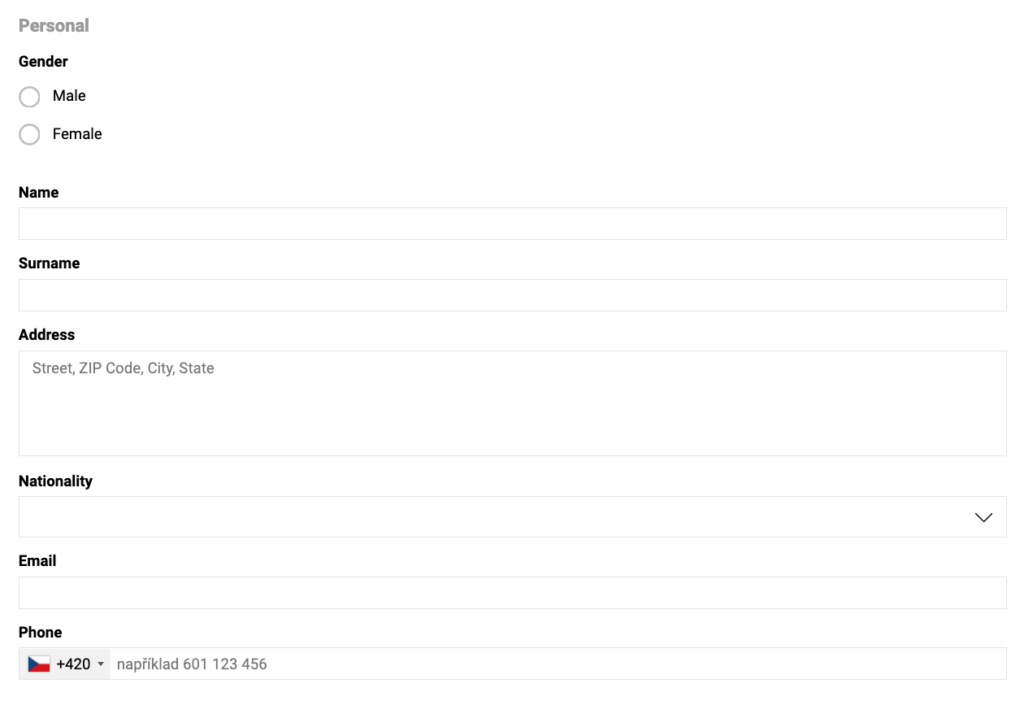 Additionally, you can set up for each question whether the answer is required or define a placeholder.
Bulk actions with courses
The new version allows administrators to complete or delete multiple courses at once from the All courses page. Once you select a course using the checkboxes are contextual actions displayed above the list. We warn you that deleted courses can't be restored. Use this function when you need to remove testing courses or when they distort statistics.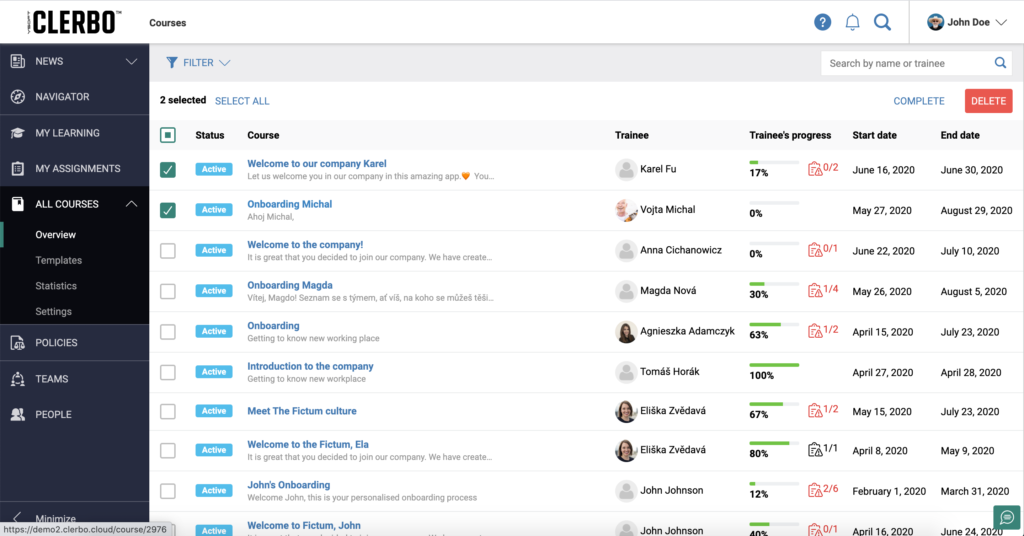 Improved list of assignments
1. To provide a better overview of people involved in the onboarding, we added information about who should they talk to about certain assignments. If the assignee views his courses, the column shows people who can help him with the assignment.
2. Assignments are ordered chronologically and overdue assignments are highlighted by red color.
3. To help users keep the focus on what needs to be done, we added a new filter that displays by default assignments with a deadline in the next 14 days. If users need, it can be activated.

A new way to show attachments
If you added a new attachment to the content, it displays as a widget displayed in the figure below.


This version added also a few small improvements to the user imports.
6/8/2020 (v.1.2.11)
Smooth transition from the end of course to My learning page
Once the user completed all course assignments the feedback form is displayed as the last step. To easier navigation to other courses, we added the 'Continue Learning' button after the feedback submission.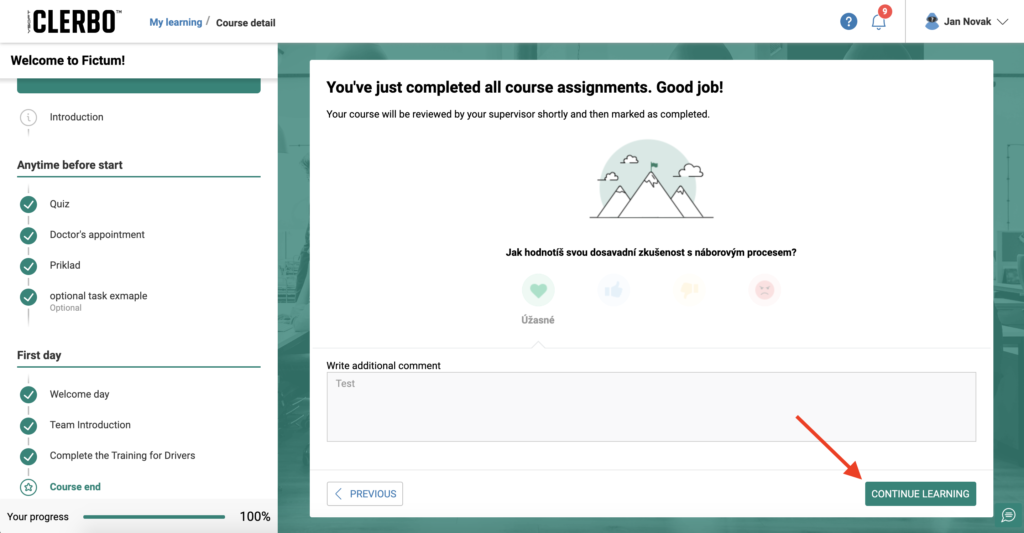 Protection of personal contact information
Previously, were pending employees and candidates visible to all employees. They were able to access their profiles with personal contact information. The new version hides these profiles to regular employees. Administrators can see all users and superiors all existing or future subordinates.
New user type and permission role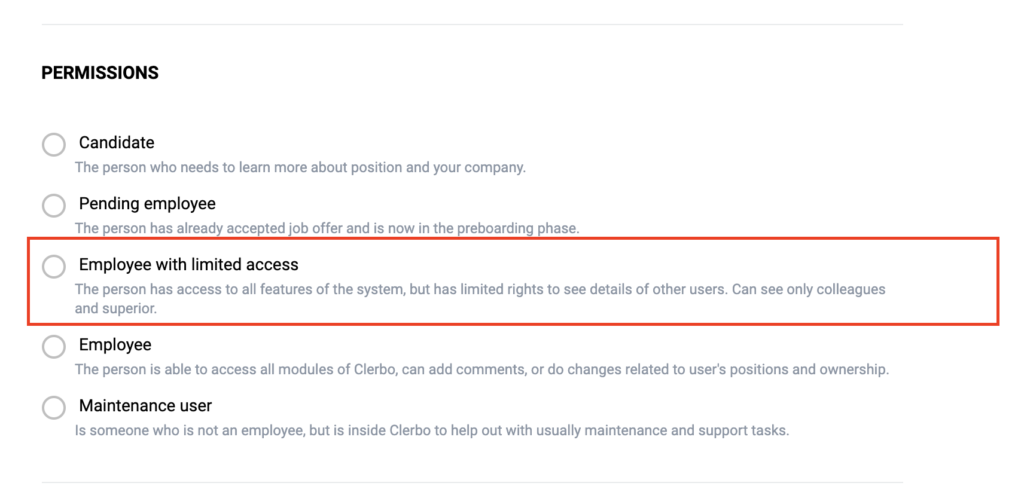 For companies that don't want employees to see all other employees, we added a new user type 'Limited employee'. Users of this type see only people engaged in their courses, teammates, and superior. You can assign this user type manually or automatically with the users' import.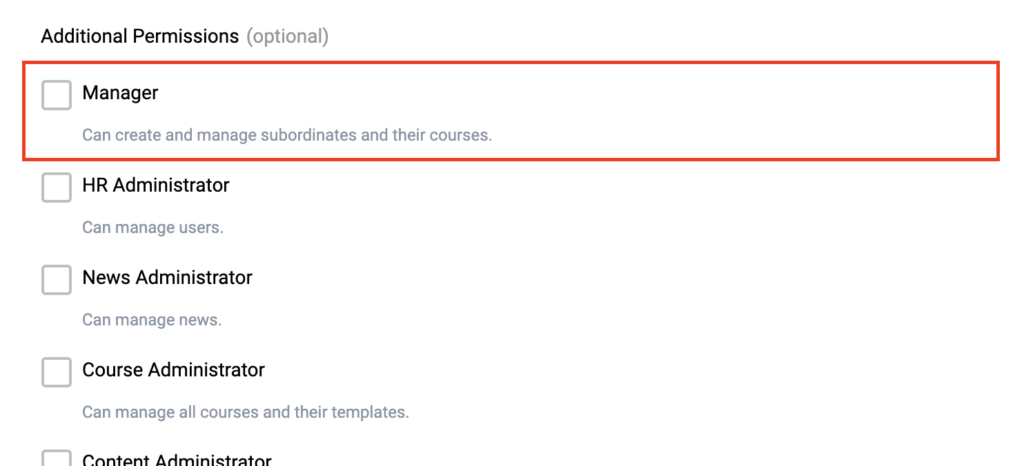 To streamline permissions for managers, we added a new 'Manager' role that can be assigned to the Employee or Limited employee. Users with this role can create and edit their subordinate users and manage their courses. You can assign this role manually or automatically with the users' import.
Automatic user archivation
When you periodically import all your active employees, you will definitely appreciate that employees missing in your import (inactive employees) will be automatically archived. Archived users don't have access to the system and are not visible to other employees, but administrators can still unarchive them if needed.
Work with the system while user import is running
When the user import is running in your system, you can hide the progress and continue working with the system. Once the import finished you will see its result.


Improved document statistics
We received a lot of feedback on weird numbers in document (article, policy) statistics. We simplified the 'Reach' widget that currently shows the total readers of the document across the organization and individual teams. You can also clearly see how many users haven't read the document yet.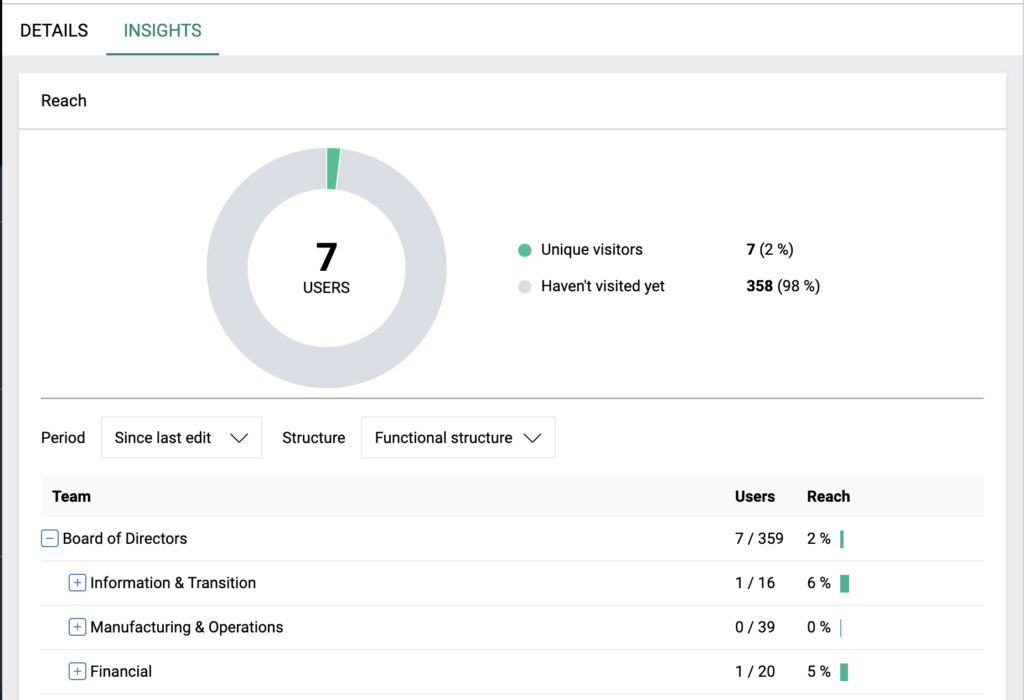 5/19/2020 (v 1.2.10)
Improved Teams Filtering
When you need to see courses or data for just a part of your organizational structure, you can find handy the improved filter that automatically selects all subordinate teams. You can easily view data for entire branches, locations, or divisions.

My learning page keeps courses position
We received a lot of feedback that it's confusing if the course position on My learning page is changed after the user started working on it. It led to situations where onboarding courses could appear before the preboarding. Since this version, Clerbo always displays courses in the same position.

And few other small improvements and bug fixes.
5/5/2020 (v 1.2.9)
Bulk course creation improved
We have noticed that many existing Clerbo customers started creating hundreds of online courses for employees that can learn remotely from their homes during the crisis. With the recent improvements, we make bulk course creation more convenient to use and much faster.
How to assign the same course to tens or hundreds of employees? Select these employees from the list (filter them out and extend a number of items per page) and click on the "Create course" action in the top menu. Specify course details and hit the "Create" button. You can see how courses are created with our new progress indicator.

Faster list of assignments
When the user opens and closed an assignment detail from the My Assignments list, the list to tasks is not reloaded which makes the work with assignments much faster.
Other small updates
Language updates – We received several complaints about the used language in Clerbo. We did a few updates and replaced some technical terms with more user-friendly words (e.g. ENG: SSO -> Employee Sign In). We are not done yet. Expect other improvements soon.
Added an indication when Clerbo is loading.
Few small bug fixes.
3/17/2020 (v. 1.2.8)
Onboarding Buddy
Buddies should help your new hires for better orientation at the company and ensure a smooth start. If your process uses onboarding buddies, you can newly assign a task to them and add them to onboarding courses.

New Users Imports
We unified the structure of user imports to provide a more comfortable way to load employees from other systems (HR systems, ATS, etc.) and automatic course creation. You can import users manually on the list of users. All users' data to import should respect the following structure.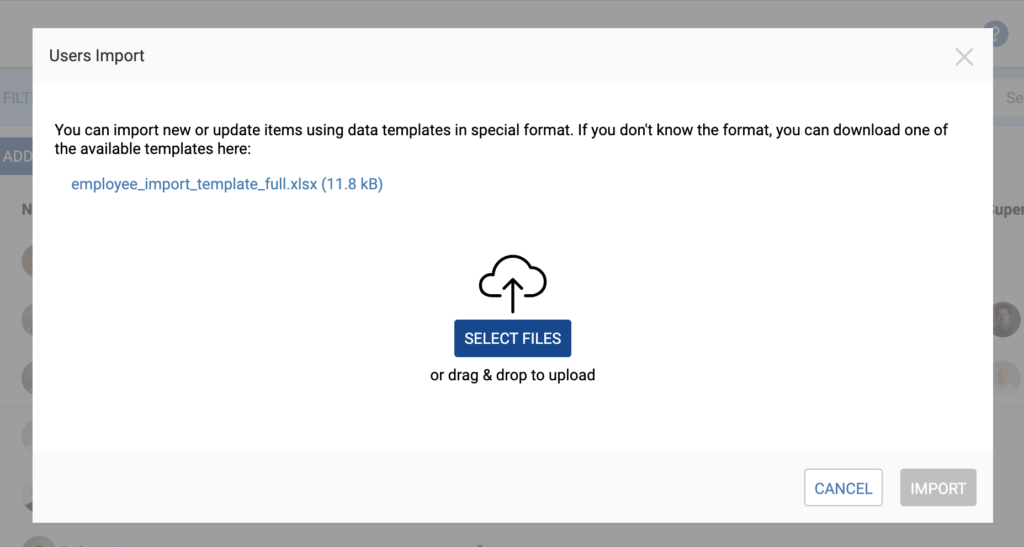 Increased security of personal information in courses
Protecting personal data has been always our priority. Starting this version you can mark in templates assignments that contain sensitive information. The content of these secured assignments can be viewed by trainees, reviewers, and administrators only.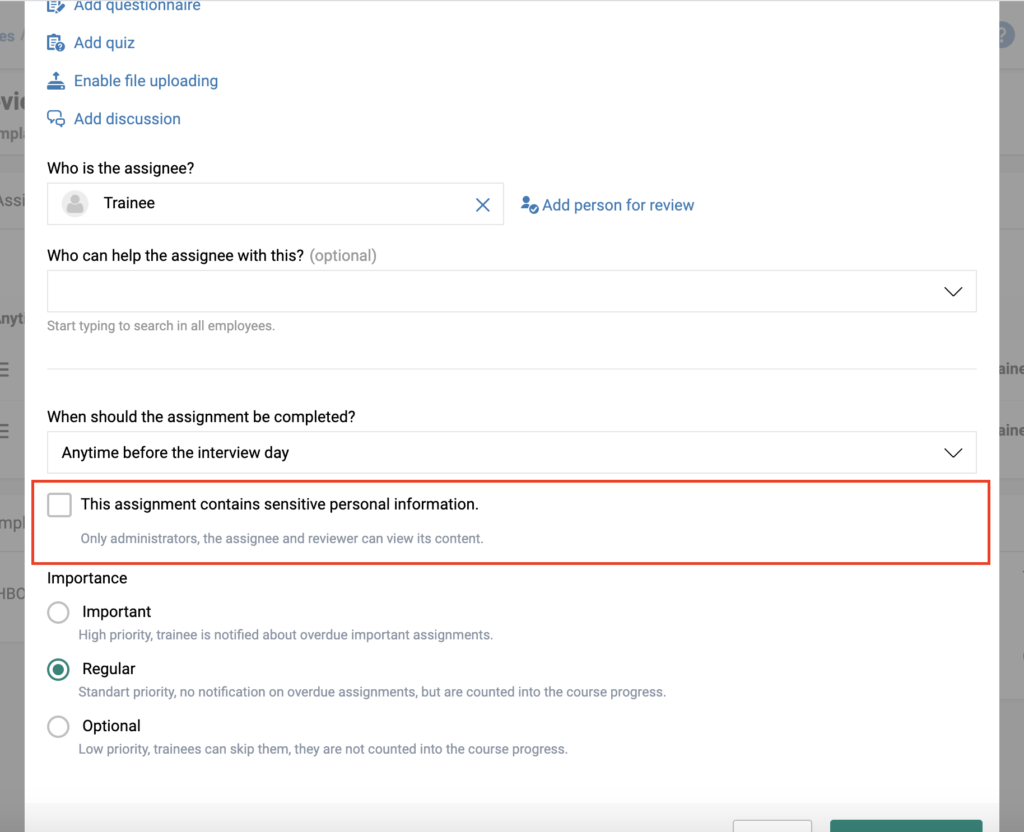 HR administrator
We added a new user role "HR Administrator" that can manage all users in the system. Assign it to people from your HR team who should create new users in the system.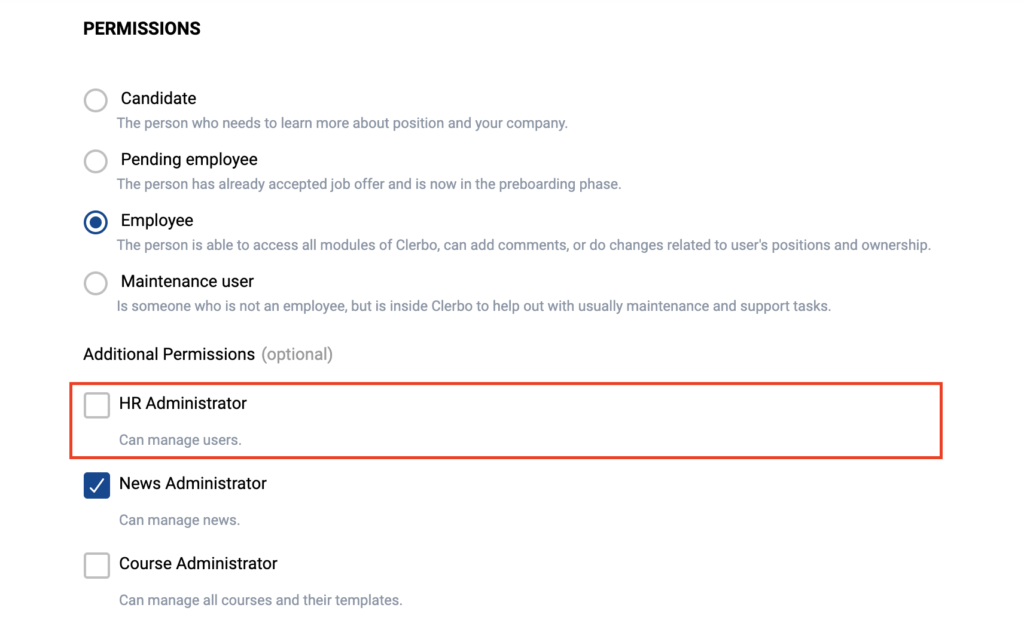 Request acceptance of usage terms from your new hires
Do you require new hires to accept your GDPR policy or another document before entering the system? No problem. Upload your documents to Clerbo and set up who needs to accept them and from what date.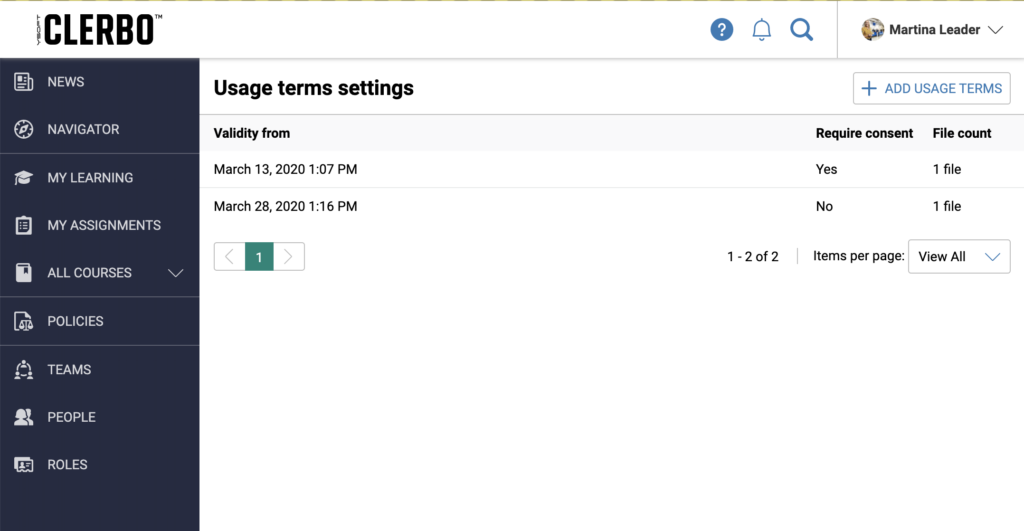 Other improvements
Performance improvements.
Important assignments in courses are highlighted by red labels.
Filter courses and templates by course type.
Filter users by employeeID.
Embedded videos from YouTube can be viewed in full-screen mode.
Changed icon for our internal feedback tool 'brouček'.
New "Anytime" milestone for employee education course type.
3/9/2020 (v. 1.2.7)
New redesigned courses
We continue our mission to make Clerbo more attractive for your candidates and employees. This release brings newly redesigned course pages – new layout, branding option to upload the image to the background and new flow and more convenient how to navigate between the assignments (using next and previous buttons).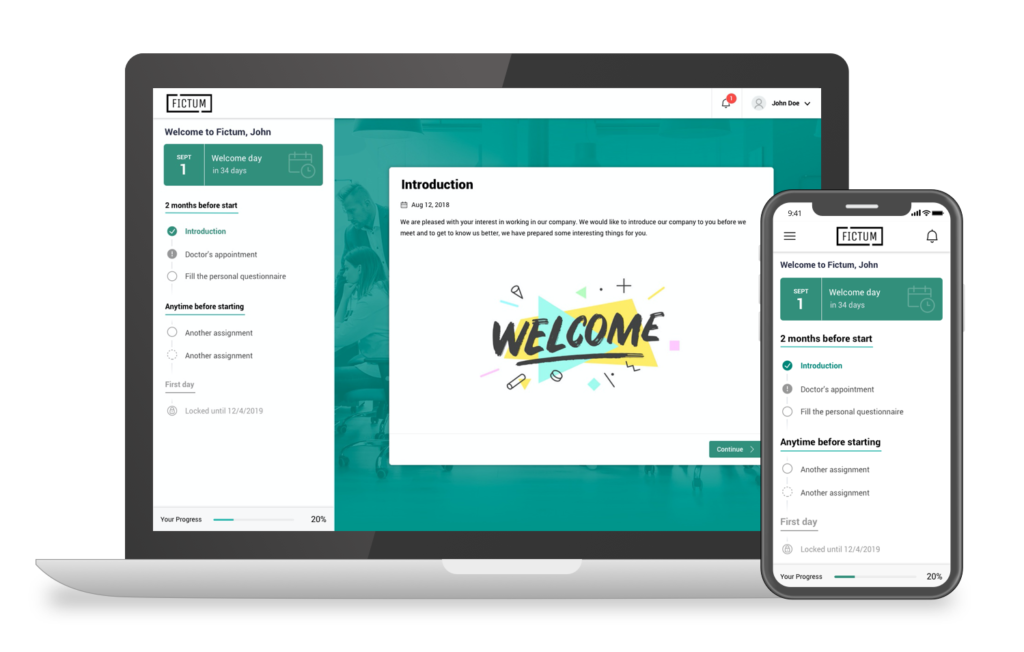 You can choose a different course background image for each course type. Just go to the All courses > Settings and set up the background image.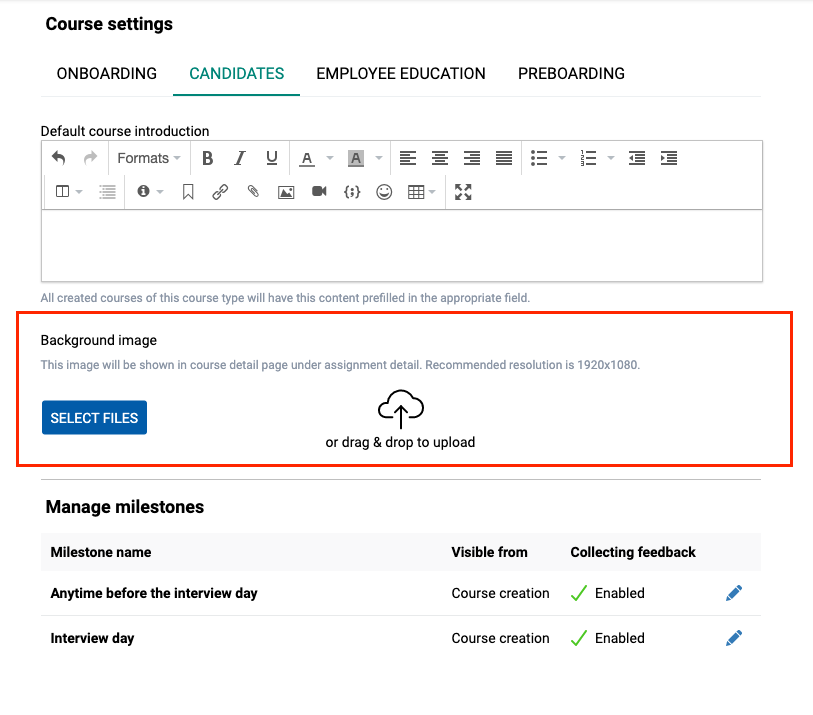 List of Teams
In addition to the visual organizational structure, we added a team's list. This view is better for searching and filtering in teams and is much faster for large organizations. You can switch between the visual and list views using the top toggle button.

New team management
Management of positions within the team was moved from the modal window to the team's page.

Fixed issues
Paging on the All courses page should work correctly now.
Improved notifications for mentions in comments and course discussions.
And much more…
2/13/2020 (v. 1.2.6)
This release adds the first part of the planned facelift (employee journey & company logo in the header on mobile devices) and improves course content creation.
Create assignments in a new modern way
We have improved the form for adding and editing tasks to increase the efficiency and clarity of options. Learn more
New course types and milestones
We have added different course types that can be used for the categorization of course templates and courses (e.i for pre-boarding, onboarding or other employee education).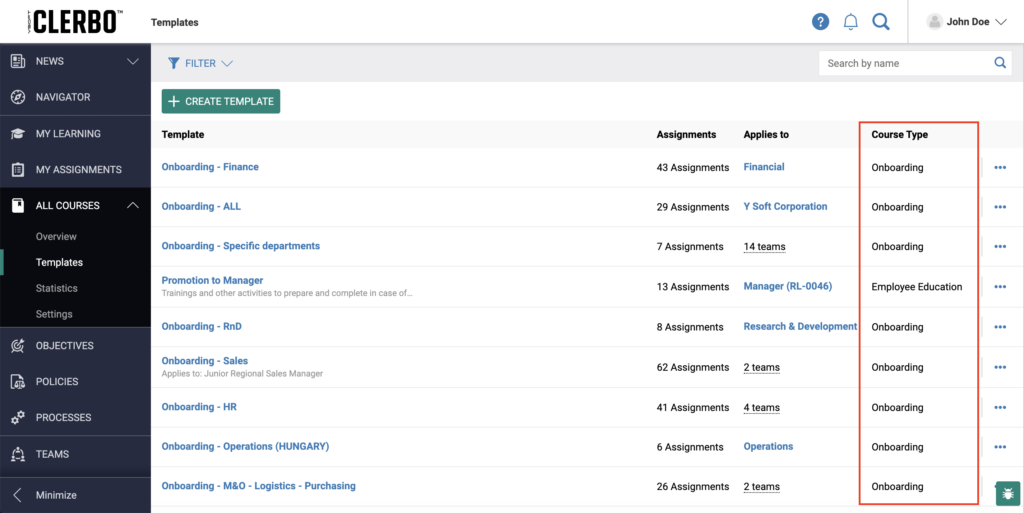 Available course types and milestones:
Candidates

(New)

Anytime before the interview day
Interview day (behaves just like the first day)

Preboarding

(New)

Anytime prior to start
2 months prior to start
One month prior to start
One week prior to start
First day
First week

Onboarding (Default type)

2 months prior to start
One month prior to start

Anytime prior to start
First day
First week
First month
Second month
Third month
First quarter
Fourth month
Fifth month
Sixth month
Second quarter
Third quarter

(New)

Fourth quarter

(New)

First year

(New)

Second year

(New)

Employee Education

(New)

Anytime prior to start
First day
First week
Second week
First month
Second month
Third month
First quarter
Fourth month
Fifth month
Sixth month
Second quarter
Third quarter
Fourth quarter
First year
Second year
Employee journey
From now on, all employees can see their courses in a more attractive view. The "My learning" page is the employee education journey in Clerbo (including courses completed, courses in progress or planned education) that can be enhanced through thematic pictures.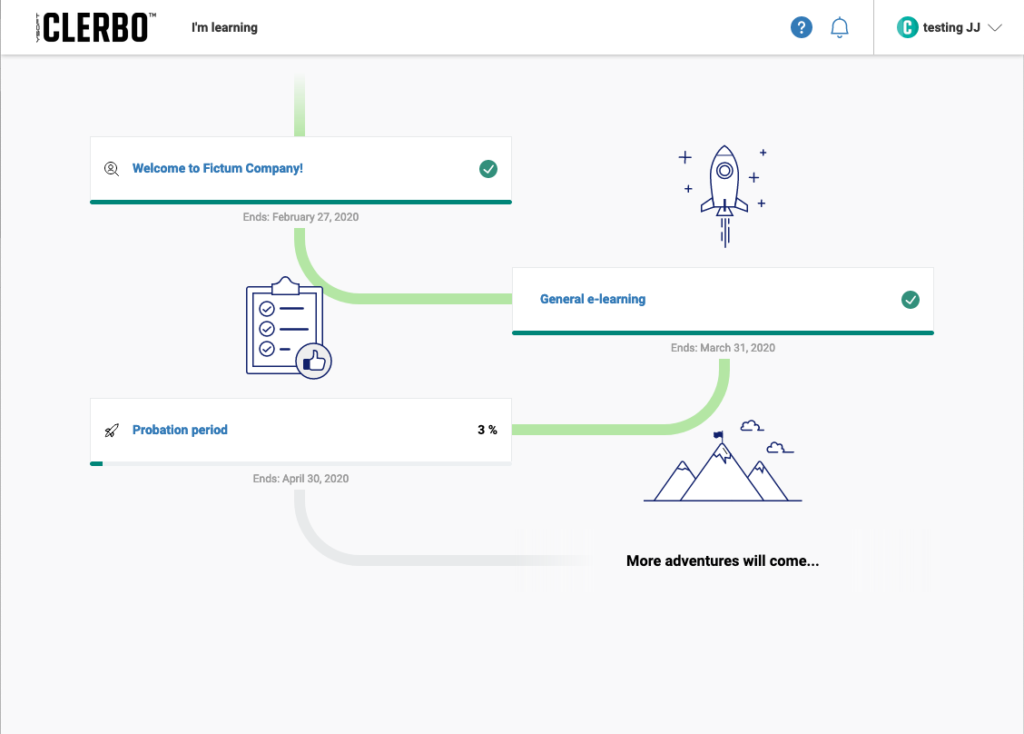 Improved empty states
Empty states better describe situations and provide primary actions, if needed.
Logo in mobile device headers
Branding has been enhanced, with your company logo visible in mobile device headers.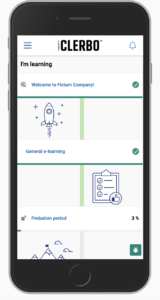 Some other improvements
Fixed issues with the article workflow and full-screen mode in the content editor.
Improved phone format with a selection of country codes.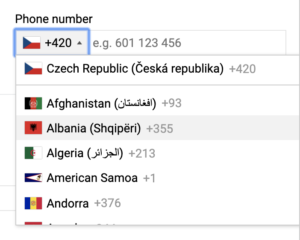 Start/end date selection for courses has been split into 2 fields, plus a guide has been added on how to define these dates.
Search employees by Vendor ID (unique employee identification).
Slovak, Polish and Hungarian translations for notifications.
Navigation is hidden for candidates and pending employees.
Release 1/16/2020 (v. 1.2.5)
This release fixes multiple visual bugs, allows users to better work with attachments in onboarding courses and improves statistics and assignment lists.
Users can upload multiple files and delete their files
In assignments that allow file attachment, users can upload multiple files at once and delete previously uploaded files.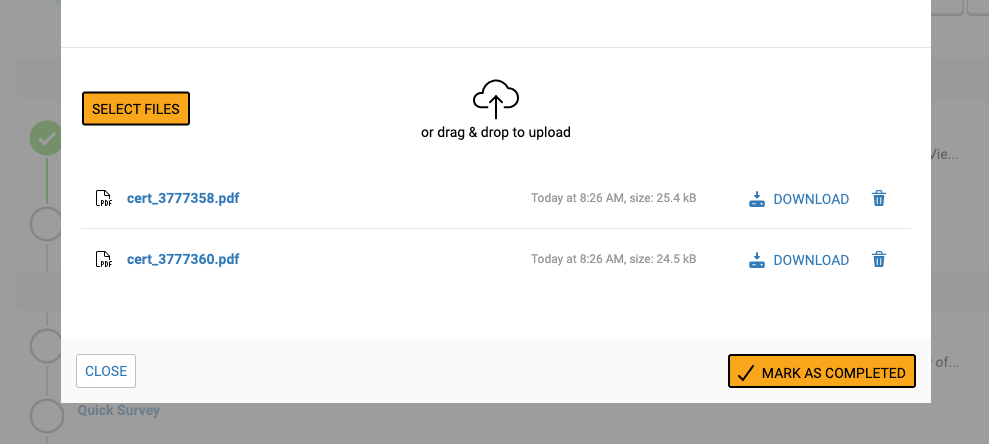 New icons and improved statistics
The app contains a new set of icons and improved layout for quiz and questionnaire statistics. Once the filter has been applied to selected data, chart granularity is updated accordingly.
My assignments page is focused on unfinished tasks
Employees working with the list of assignments can now better focus on what needs to be done. The filtered list shows all uncompleted tasks by default.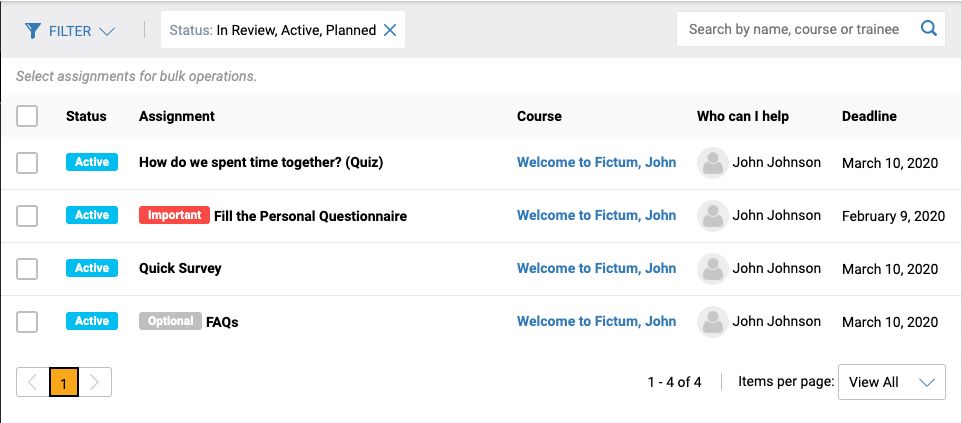 Help for users who can't sign in
The next improvement is available on the sign in page. Users, who encounter issues with signing in to Clerbo can now easily access the help guide by clicking on the link Don't know how to sign in? The sign in tutorial containing videos is available in English and Czech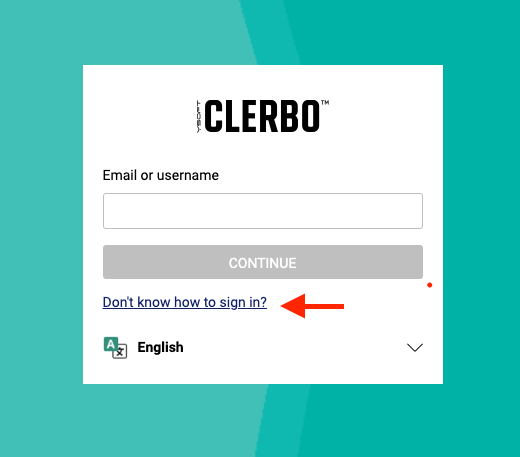 YSoft Clerbo 1.2.4
This release fixes multiple bugs and allows admins to see ratio of (completed vs. total) important assignments per every course.
Highlighting important assignments in the overview
Progress shows number of completed / total important assignments. It is highlighted in red if any of these important assignments are in delay.

YSoft Clerbo 1.2.3
Any of the sign-in methods (login) can now be marked as primary. This is the method that will be offered in the first step of your sign-in process and is very visible. The user is able to switch to any other sign-in methods if those are available.
YSoft Clerbo 1.2.2
The newest version brings 3 new main features.
Email and in-app notifications for comments
Be notified (email and in-app) whenever there is a new comment:
under any document you are owner (or consult) of
to any assignment that is consulted by you or is assigned to you
under the thread you have started
and you are mentioned
Consent (with data processing) on the first use
Every person in your company will be requested to give consent with the PDF document before being able to work with YSoft Clerbo.
These will typically be privacy policy and data processing policies.
Please contact us to set this up for you to get started.
Archive users that aren't with you anymore
User state can be switched between:
Active – regular user of your Clerbo app
Temporary inactive – users who are currently not with you, but are still part of your company; typically for a longer leave
Archived – users, who are gone and don't intend to come back. They will not appear in lists, search, etc.
YSoft Clerbo 1.2.1
A brand new release of YSoft Clerbo that offers new way of signing-in into Clerbo app.
Sign-in with email link or an SMS code
Apart of the regular password-sign-in, Clerbo now offers also passwordless sign-in. How it works?
Identify who you are by entering your email, telephone number or your username.

Note: any of these information need to be saved in Clerbo in order to use them to sign in
Always use the international format to store your telephone number

Enter password to sign in (the regular way);
Or request sending an email link.

The link is then sent to your inbox (to the email entered for your Clerbo account).
Click the link to sign in.
Note: The link has limited time validity to ensure security. Request a new link if the previous has expired.

Or request sending an SMS code.

The SMS code is then sent to your phone (to the number entered for your Clerbo account).
Type in the SMS code in the following step to sign in.
Please note that not all of the sign-in methods may be available for Clerbo in your company. Contact your local admin and YSoft Clerbo team to enable other sign-in methods.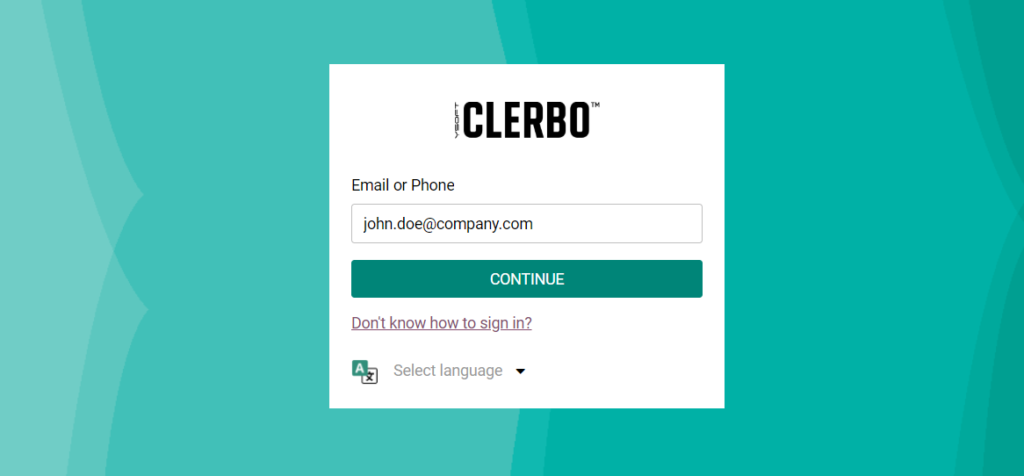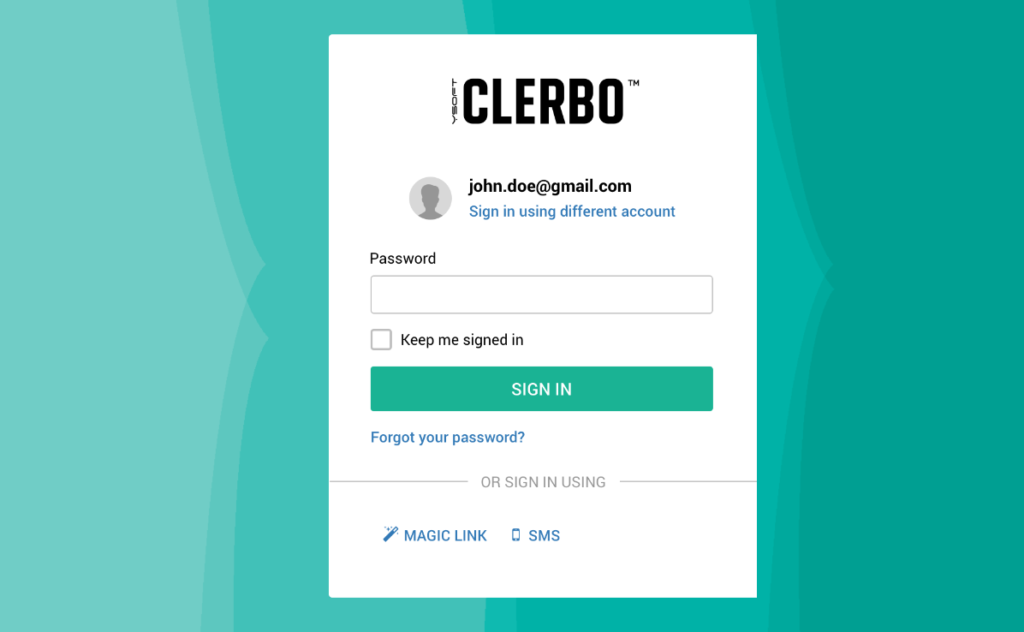 Welcome SMS
If the SMS code sign-in is enabled for your company, we will also send an Welcome SMS message together with email as a part of Account activation process. The SMS message will notify your user of her new Clerbo account.
YSoft Clerbo 1.2.0
This version of YSoft Clerbo brings new organization structure into reality. What does that mean? Read further.
Organization structure
From now on, any Clerbo user (typically an employee) can:
be a part of multiple teams having a team leader in all of those teams
have one superior that is accountable for her work
For all of the employees that are part of the org.structure, we will now show two widgets that highlight
A chain of who reports whom in the company
Position of given employee in all of the teams
Not all of the changes are completely new, however, the newly redesigned Organization structure simplifies work for admins and will allow us to continue with many more changes in the future.
Learning module
There are multiple new features that will simplify daily admin life, mainly:
Courses can be created in bulk

Create the same course for multiple persons at once; or make them personalized based on applicability of the templates.
(Screenshot below)

Superiors can be re-defined manually

Set superiors for your trainees as needed right when creating any course.
(Screenshot below)

Courses can be created directly from user detail

The shortcut is available to course admins and will allow them to continue in their flow better – i.e. firstly create a new user, then create a new course for her.

Drag and Drop reordering assignments in course edit

From now on, the course admins will be able to simply adjust the course to trainee's needs.
(Animation below)

Discussions within assignments

Author of any learning assignment can enable the discussion.
(Screenshot below)

Assignments for any persons

Make any Clerbo user "responsible" for an assignment. For example to ensure the trainee

has all the items she needs
is introduced to people important in the onboarding or course
etc.

Email notifications for new courses

An email to notify trainee of a new course assigned to her. From now on, such notification can be sent automatically. Simply check a checkbox when creating (or even editing) any course.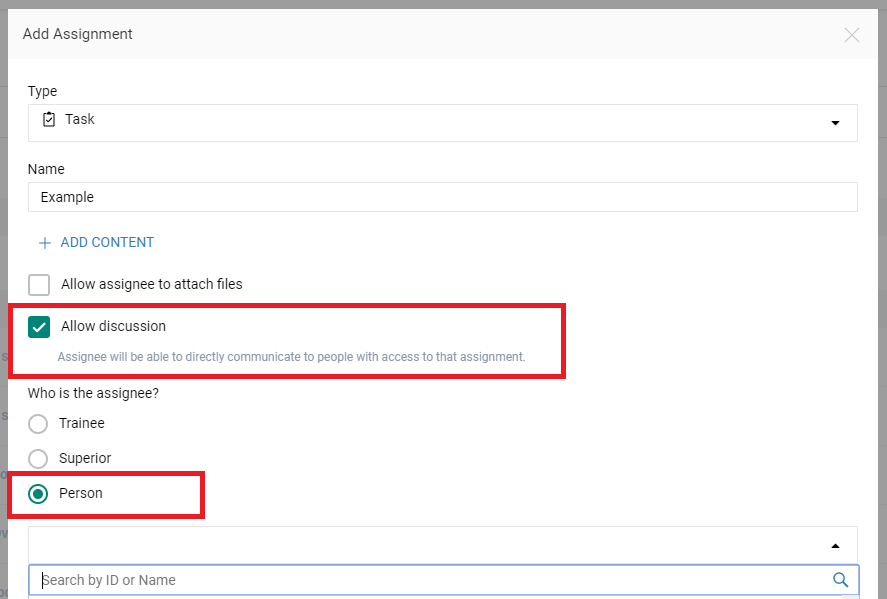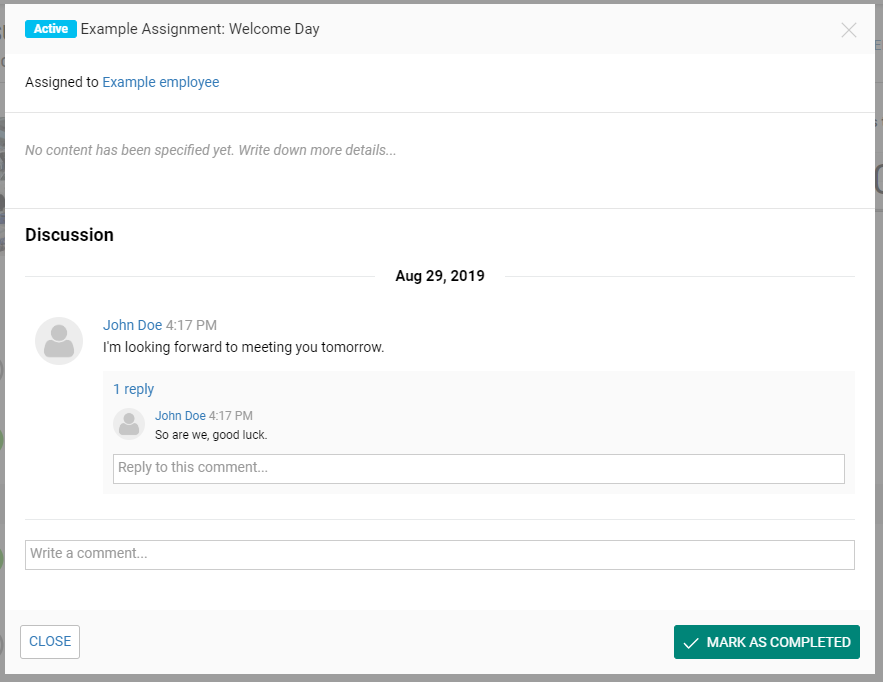 Policies module – Archiving to PDF
If you are about to edit a policy that was approved before, YSoft Clerbo will ask you whether to archive the policy when changing the document workflow status.
The PDF file with content (and read consents) will appear in a new section called "Previous versions" next to the attachments.

People section
The Employees section has been renamed to People to better reflect possibilities. Now the user types can be:
Candidates – People interested in coming to the company.
Pending employees – People who passed the interview rounds and are about to join the company.
Employees – People who work in the company – in our case in Y Soft.
Service users – People who support Clerbo, but need to be excluded from statistics and similar lists.
Hungarian language
YSoft is now available in Hungarian. Does this fit your company needs? Contact us…
Older Versions
YSoft Clerbo 1.1.3
This version adds few YSoft-specific enhancements.
---
YSoft Clerbo 1.1.2
The latest version of YSoft Clerbo now allows any visitor of our local website to create a self-guided demo.
Self-guided Demo tour
To check out the app and some example content, just visit the website linked above and create your demo account using the form in the lower part of the website.
Then check out the app, and let us know what you think.
---
YSoft Clerbo 1.1.1
The new version of YSoft Clerbo brings many small enhancements
More milestones in Learning
Use milestones: 4th month, 5th month, 6th month and 2nd quarter to spread out onboarding assignments better.
Bulk action: Send welcome/reset password email
When selecting multiple people, you can now send them welcome / reset password email as a bulk action. Always, active users receive the reset password email, while the non-active users receive welcome (invitation) email.

Phone and email links
By clicking a phone number or email, you can automatically perform the related action – i.e. call the number or send an email.
---
YSoft Clerbo 1.1.0
YSoft Clerbo 1.1.0 brings user imports right into UI. Apart from that, also: duplication of assignments and enhancements in Feedback list
User import and export
System admins can now import employees using a table in format CSV or XLSX.
For more information on imports and exports, check the Help article.
Duplicate course assignment
When editing a template, you can now duplicate a task from an existing course template.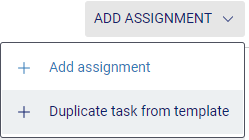 The duplicates are distinct after the copy is created – editing one has no effect on the other and vice versa.
Feedbacks list
Notifications for new feedback items

Everytime the a new feedback is reported by Clerbo users, an email notification is now sent to Feedback admins.

Report incident flow is enhanced

When viewing detail of a feedback item, click either Save to just save the changes that were made, or, click Save and report to let Y Soft Customer Service know of the problem.

Simplification of statuses

The feedback can from now on be in state: Open, Planned, Resolved, Closed, Rejected.
Navigator
Navigator is now a top-level item for an easier access.
Videos in content
The default size of videos (same for YouTube and Vimeo) has been changed to:
800 pixels in width
450 pixels in height
This way, videos will fit into content better, use more of the available space, and be nicer. Still, you are able to change size of the video frame as you wish.
---
YSoft Clerbo 1.0.24
YSoft Clerbo 1.0.24 has been released and brings multiple enhancements – mainly for admins. What's new? Check out below:
General usability
Welcome emails

As a system admin, you can now decide, whether you want to send a welcome email (invitation) to your new or existing users.

Reset password flow and emails

The flow around password reset was enhanced and simplified. With beautiful emails to guide the user better.


User can reset password using the dialogue available from the login screen.
System admin is able to resend reset password email to users, as needed.
If the passwords are managed externally, e.g. using Active Directory, user receives email noticing her of this fact.

Management of user roles is simplified

Available from employee detail; system admins only.

Learning module
Learning and courses

We've decided to rename the Training section to Learning after doing a research and collecting plenty of feedback and opinions.
Learning describes purpose of this section better. Within that, you can find your Courses and Assignments.

Menu items reordering

Together with the above-mentioned change, the menu was reordered to reflect customer needs better.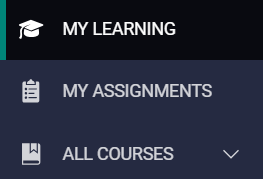 News module
Draft state

From now on, the post can be saved as draft, and then scheduled or published later as needed.

Top news managed by checkbox

Positioning in the top section of the News page is now managed by a single checkbox. This makes work of News admins much simpler.