Templates are accessible only to managers and users with "Course administrator" rights and above.
Templates are used to facilitate the creation of courses by employees. Each template is defined by a set of assignments, which make up the prearranged course content, and can be aimed at a specific user role or team.
Templates list
The page All courses > Templates shows the list of all existing course templates in the system and offers the possibility of creating a new template or updating an existing one.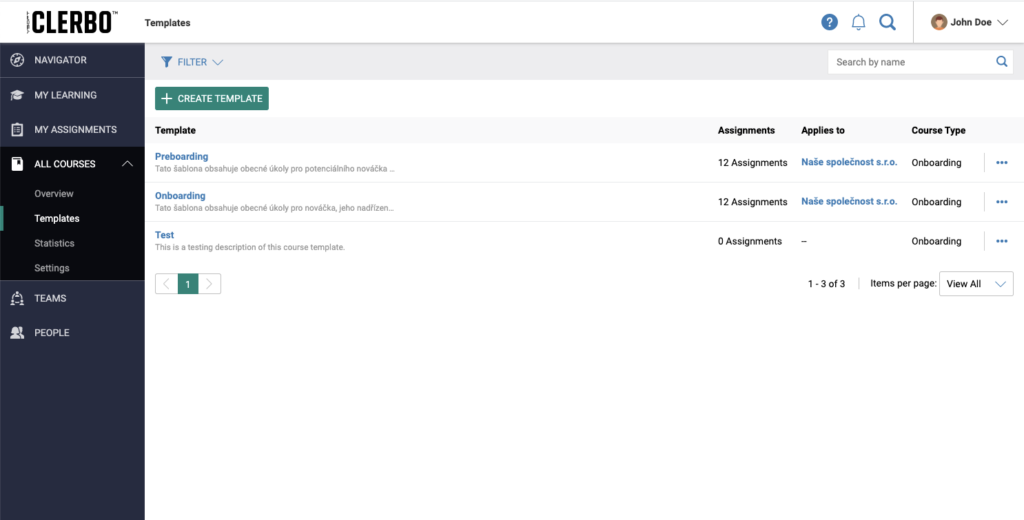 The list contains the following information:
Template – the name of the template with a link to show details and for eventual editing.
Assignments – the number of assignments in the template.
Valid for – the team or role, for which the template has been primarily intended (if more items are selected – a link is displayed with the number of teams or roles allocated).
Course type – the name of the course type to which the template has been allocated.
The course template list can be filtered according to:
team, for which the template is intended
role, for which the template is intended
Creating a new template
For the description on how to create a template, continue to the following guide.
Working with existing templates
In the list with each template there is a button on the right hand side to display a list of available actions:
Show detail – Shows template detail (same as the previous step).
Amend – Shows the template in edit mode.
Delete – Deletes the template.
Was this article helpful?
Dejte nám vědět, jestli Vám tento článek pomohl. Na základě vaší zpětné vazby jej můžeme dále vylepšovat.