The People page contains all YSoft Clerbo users within your organization. The basic function of this page is the creation of new users. They can be added manually or imported en masse.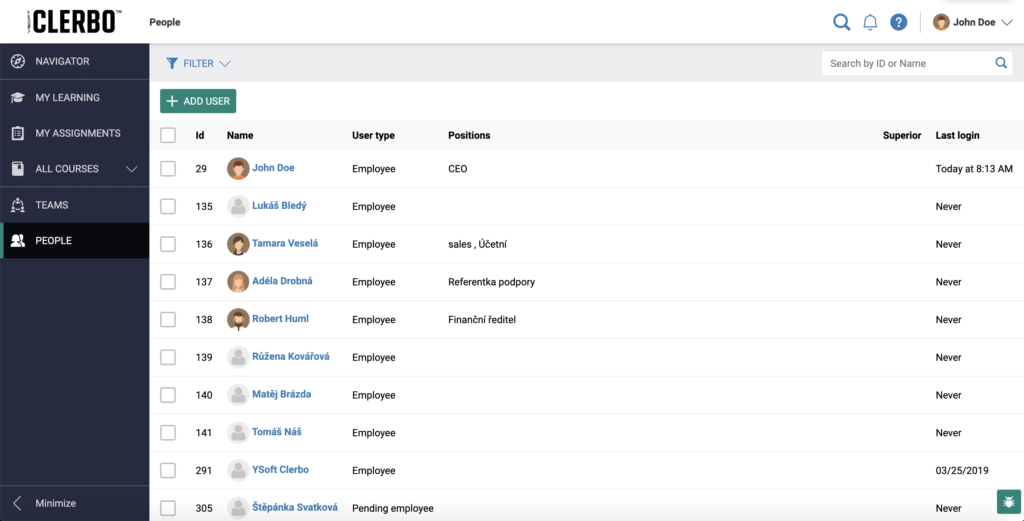 User import
YSoft Clerbo imports changes only – employees absent from the import will not be removed from the system. Employees mentioned within the import will be either created or updated, should they already exist.
To import, select this function from the toolbar above the employee list and paste the list in a CSV or XLSX file into the window. The data must be in the required format (as per the attached import template) in order for the system to be able to process them.
Import Template
The import template is available in the modal dialog. It shows you what format needs to be used for a successful import.
The setting of the invite email dispatch can be checked in the Send invite email field.
Available options are:
no – the invite email will not be sent.
all – the invite email will be sent to all users within the imported list.
new – the invite email will be sent to all new created users.
inactive – the invite email will be sent to all users from the import, who have not yet visited Clerbo (new + existing users).
Export users
If you need to export employees, select them in the list and click on the export button above the table.
Wait until the exported file is ready to download.
Bulk actions with users
Once users have been selected on the list, the toolbar contains relevant bulk actions.

Change user type

You can quickly switch whether selected users are candidates, pending employees, employees or service users.

Switch state

Users may have one of the following statuses:
Active – can access the system without any limitations.
Archived – these users are not visible in the system and cannot log in. They can be switched back any time to the active or temporarily inactive status.
Temporarily inactive – can access the system without any limitations, but are marked as inactive users.

Send an invitation

If you have selected users who have never signed into the system, the toolbar offers to send them an email invite with the activation link. Otherwise, the system sends users the link through which to sign in.

Create a course

You can create the same learning course for selected users quickly.
Was this article helpful?
Dejte nám vědět, jestli Vám tento článek pomohl. Na základě vaší zpětné vazby jej můžeme dále vylepšovat.